ROCKFORD, Ill. — Art students and teachers from Boylan Catholic High School and Belvidere North High School have joined together to restore a mural at VFW Post 1461 in Belvidere ahead of Veteran's Day.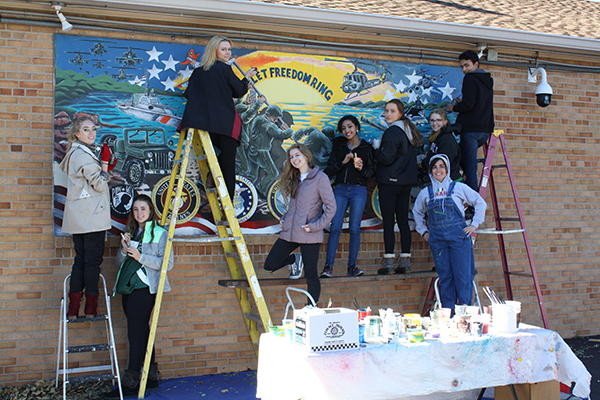 The mural, originally designed by Boylan's art department chair, Missy Minardi '97, in 2004 when she was a teacher at Belvidere High School, had faded over the years and was badly in need of a touch-up. Because it was originally painted as a group project between Minardi, fellow art teacher Troy Yunk, and art students at Belvidere High School, Minardi envisioned a similar collaborative effort for the restoration.
Gathering together nearly 20 art students and faculty from Boylan and Belvidere North High School, where Yunk is now art department chair, Minardi led the 8-hour restoration of the mural to its original vibrancy. In addition to touching-up the paint, Minardi, Yunk, and Boylan art teacher Claire Strominger worked with students to draw two additional Marines in the mural's central image of flag-raisers at Iwo Jima, which made the mural more historically accurate.
Post 1461 is especially meaningful to Minardi, whose grandfather, Raymond L. Cunningham, was a member following his service during WWII. Minardi's father and brother also served in the military.
"My passion behind the original mural, and its continued restoration, is driven by three generations of military service in my family," said Minardi. "Veterans do so much for us and ask for nothing in return. I can't think of a better way to express my gratitude than by uniting students from across the region to create a piece of art that commemorates the pride and patriotism of the men and women who serve our country."
The mural was initially commissioned to bring life to a boarded-up window on an exterior wall of the Post. It was dedicated on Veteran's Day in 2004.
"We are incredibly thankful to the students from Boylan and Belvidere North for volunteering their time and talent to restore our mural," said VFW Post 1461 commander, Greg Kelm. "We appreciate that students and teachers will go the extra mile to honor their local veteran's club by creating a mural that the entire community can enjoy."
The mural will be re-dedicated on Sunday, Nov. 11 following the Belvidere Veteran's Day parade. The parade begins at 9:30 a.m. and concludes around 9:45 a.m. at Post 1461.