From Feb. 7-12, 2019, students from Boylan Catholic High School will host 28 ninth grade students from their Chinese sister school, Wenling Experimental Middle School in the city of Wenling China in Zhejiang Province.
On Friday, Feb. 8, each Wenling student will be paired with a student ambassador from Boylan's Mandarin Chinese language program and spend the day shadowing classes and participating in school activities and events.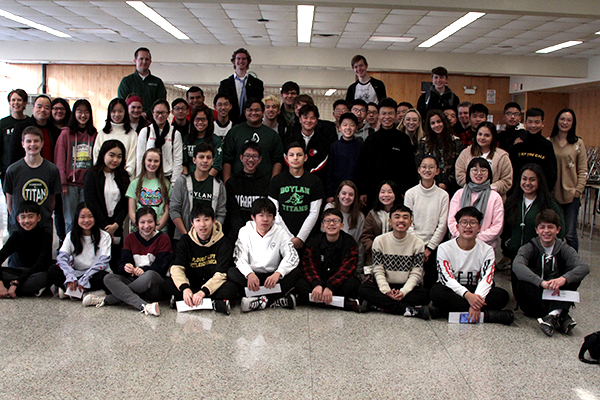 The Wenling students will spend the weekend exploring Rockford, including field trips to the Burpee Museum and the Discovery Center. Following their time in Rockford, the Chinese students will spend five days in San Francisco and Los Angeles. During their say in Rockford, the Chinese students will be hosted by local families.
This summer, six Boylan students will have the opportunity to visit Wenling during a one-month service trip as part of the Sister School program. After visiting Wenling, they will volunteer at an elementary school English camp in Jiaxing China organized by WeLearnUSA. They will also travel to Beijing, Shanghai, and Xian.
The Sister School Program teaches students the importance of being global citizens, communicating across languages barriers, and appreciating cultural differences. This is Boylan's fourth visit from Wenling Experimental Middle School.